Lithium battery market research
LITHIUM ION BATTERY BRIEF OVERVIEW:
A lithium-ion battery or Li-ion battery (abbreviated as LIB) is a type of rechargeable battery. Lithium-ion batteries are commonly used for portable electronics and electric vehicles and are growing in popularity for military and aerospace applications.
Research areas for lithium-ion batteries include life extension, energy density, safety, cost reduction, and charging speed, among others. Research has been under way in the area of non-flammable electrolytes as a pathway to increased safety based on the flammability and volatility of the organic solvents used in the typical electrolyte. Strategies include aqueous lithium-ion batteries, ceramic solid electrolytes, polymer electrolytes, ionic liquids, and heavily fluorinated systems
APPLICATIONS OF lithium battery:
Li-ion batteries provide lightweight, high energy density power sources for a variety of devices. To power larger devices, such as electric cars, connecting many small batteries in a parallel circuit is more effective and more efficient than connecting a single large battery. Such devices include:
· Portable devices: these include mobile phones and smart phones, laptops and tablets, digital cameras and camcorders, electronic cigarettes, handheld game consoles and torches (flashlights).
· Power tools: Li-ion batteries are used in tools such as cordless drills, sanders, saws, and a variety of garden equipment including whipper-snippers and hedge trimmers
· Electric vehicles: electric vehicle batteries are used in electric cars , hybrid vehicles, electric motorcycles and scooters, electric bicycles, personal transporters and advanced electric wheelchairs. Also radio-controlled models, model aircraft, aircraft, and the Mars Curiosity rover.
Li-ion batteries are used in telecommunications applications. Secondary non-aqueous lithium batteries provide reliable backup power to load equipment located in a network environment of a typical telecommunications service provider. Li-ion batteries compliant with specific technical criteria are recommended for deployment in the Outside Plant (OSP) at locations such as Controlled Environmental Vaults (CEVs), Electronic Equipment Enclosures (EEEs), and huts, and in uncontrolled structures such as cabinets. In such applications, li-ion battery users require detailed, battery-specific hazardous material information, plus appropriate fire-fighting procedures, to meet regulatory requirements and to protect employees and surrounding equipment.
MARKET ANALYSIS FOR LITHIUM ION BATTERY:
No matter which way you look at it, lithium ion ("Li-ion") battery demand is set to surge about 10 fold between 2018 and 2030 (see BNEF chart below). Another way to get a feel is the Benchmark Minerals megafactory data, which as of a July: Assessment published at 1,956.6GWh capacity by 2028, increase of 5.25%, now tracking 91 plants. The 91 number was 3 back in Q1 2015, showing how much megafactory demand has advanced in just 4 years.
The forecast demand surge is due mostly to the electric vehicle boom, as experts now see electric cars going from ~2.0% market share in 2018, to ~25-35% by 2030. At the midpoint (30%), that is a 15 fold increase in electric car demand to 2030, hence underpinning the 10 fold Li-ion battery demand forecast. Added to this will be consumer electronics, other non-car EVs (including e-bikes, e-3 wheelers, e-trucks, e-buses, e-ships, e-trains, & e-planes etc.), and energy storage.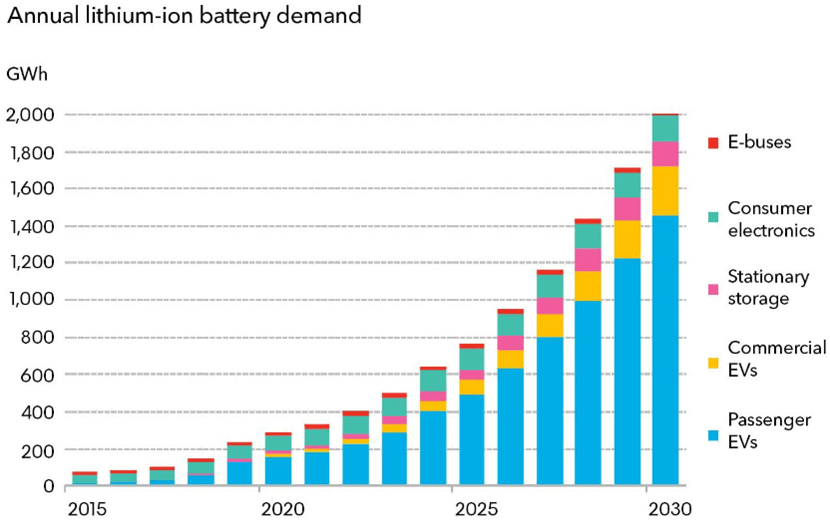 Source: Bloomberg NEF 2019 Electric Vehicle Outlook
The chart below shows the active megafactories (red), planned by 2023 (yellow) and planned by 2028 [blue]. The biggest expansion plans look be for Tesla, LG Chem, CATL, and Wanxiang Group. Next look to be BYD Co., Samsung SDI, EVE and JEVE.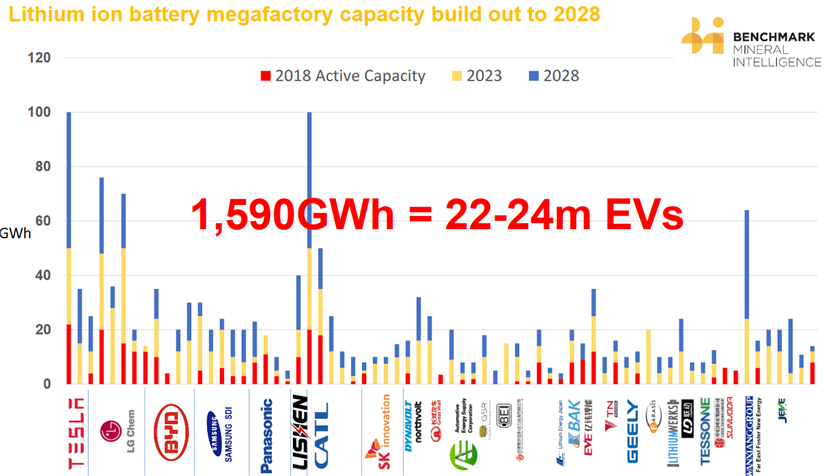 Source: Courtesy Benchmark Mineral Intelligence (note the 1,590GWh is now 1,956.6GWh)
Top 5 lithium-ion manufacturers by capacity (2018)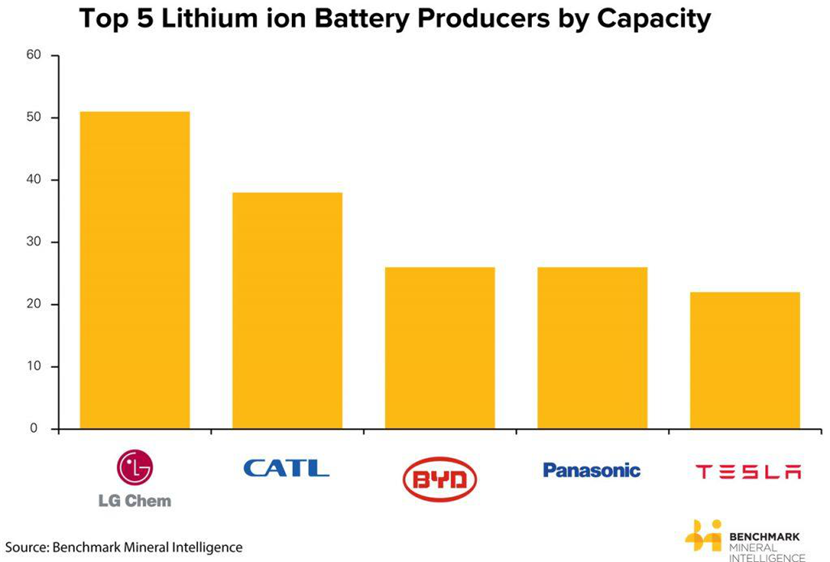 Source: Benchmark Mineral Intelligence (published 26 January 2019)
TOP LI-ION BATTERY MANUFACTURERS IN THE WORLD:
1) LG CHEM [KS:051910] (OTCPK:LGCLF) - PRICE = KRW 332,500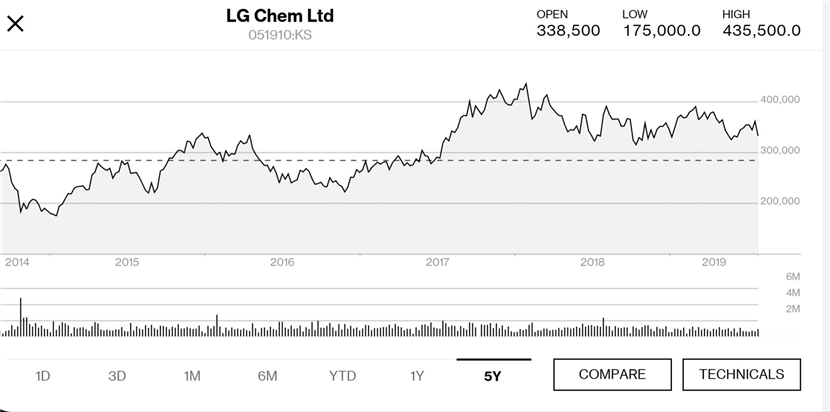 Source: Bloomberg
Korea's LG Chem is the world's number 1 lithium ion battery manufacturer by capacity.
LG Chem has agreements to supply Volkswagen (OTCPK:VLKAY), General Motors (GM) (Chevy), Ford (F), Geely (OTCPK:GELYY) (Volvo), Renault (OTC:RNSDF), Nissan (OTCPK:NSANY), Hyundai (OTC:HYMTF), Kia (OTC:KIMTF), and others.
LG Chem plans to triple its EV battery production capacity to as much as 110GWh by the end of 2020. LG Chem needs to expand to at least 170GWh in 2024 to meet its growth target. New plants are under development in China and Poland, and LG Chem is considering building a second US factory. More details on LG Chem and their raw materials supply source here. Keep in mind this will require significant CapEx to be funded most likely from equity dilution or further debt.
LG Chem recently reported weaker profits, down 83% on year in 2Q 2019, due to "higher raw material costs and weaker demand." GM's sales have been quite weak, and their other OEMs are mostly still small players in the EV world. LG Chem should start to do a lot better in 2020-2022 as the ICE companies rapidly arrive with new electric car models and quickly ramp up sales.
LG Chem has a market cap of 23.51T KRW (US$19.8B). 2019 debt is estimated at 5.684T KRW (US$4.78B). 2019 PE is 24.9 and 2020 PE is 14.7. 2019 net profit margin is 3.33% and 2020 is 4.74%.
Analysts' consensus is a buy with a price target of KRW 443,548 representing 31% upside.
LG Chem's financials chart below suggests 2019 was their blip year and revenues, margins and profits should all improve in 2020 and 2021.
LG Chem financials and forecast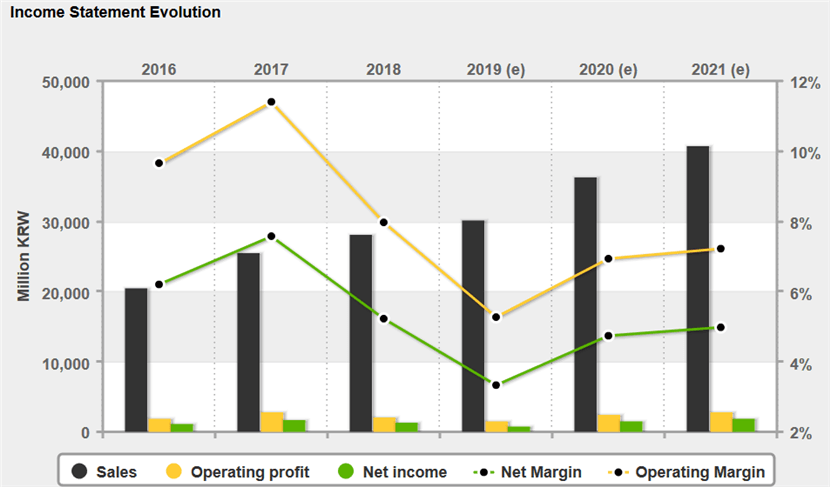 Source: 4-traders
2-CONTEMPORARY AMPEREX TECHNOLOGY CO. LTD. (CATL)[SHE:300750] PRICE = CNY 75.80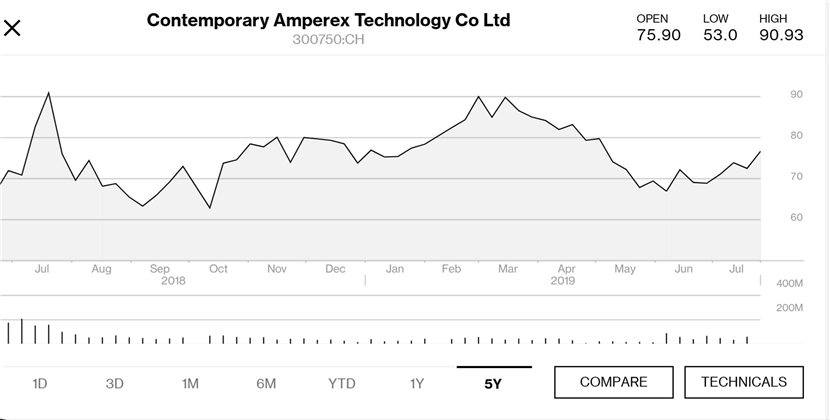 Source: Bloomberg
China's CATL is the world's number 2 battery manufacturer and China's number 1 battery manufacturer with huge expansion plans.
CATL has agreements to supply Geely (Volvo), BMW (OTCPK:BMWYY), Daimler (OTCPK:DDAIF), Volkswagen, Toyota (TM), Honda (HMC), Nissan, and several Chinese car manufacturers. China's CATL recently announced plans for yet another megafactory, a $2B German battery plant.There have been some discussions on their battery quality being lower compared to the Japanese and Korean manufacturers, but this has not seemed to have slowed down their progress.
CATL has a market cap of CNY 166B (US$24B). 2019 debt is estimated at zero. 2019 PE is 38.7 and 2020 PE is 31.9. 2019 net profit margin is 10.18% and 2020 is 9.8%.Analysts' consensus is an outperform with a price target of CNY 74.62 representing 1.8% downside.
CATL's financials chart below forecasts revenues to increase strongly, but margins are forecast to fall, albeit from good levels compared to peers. Profits are forecast to increase.
CATL financials and forecast: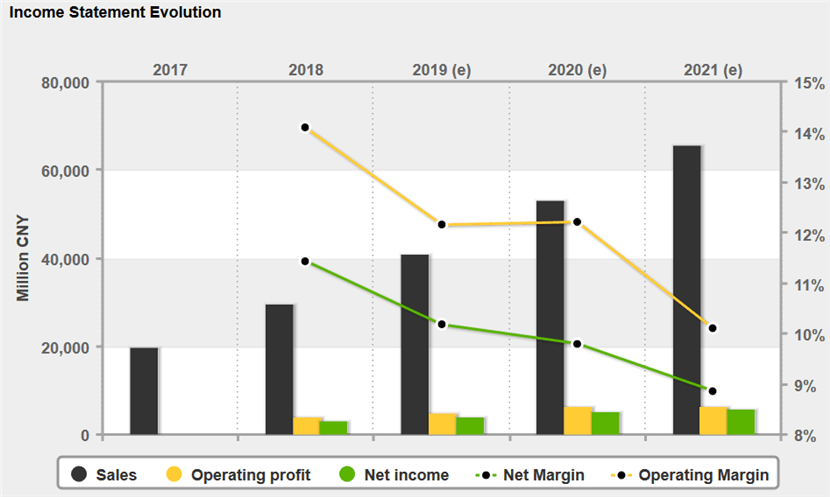 Source: 4-traders
3-BYD CO. [SHE:002594][HK:1211] (BYDDY)(BYDDF) - PRICE = CNY 55.73, HKD 49.15, USD 6.25
Source: Bloomberg
China's BYD is the world's number 3 battery manufacturer and China's number 2 battery manufacturer with large expansion plans.BYD has agreements to supply BYD (their car company, ranked No 2 globally for sales in June 2019), Toyota, and others. It should be noted BYD is not a pure play battery manufacturer, as they have revenues from several segments, most notably electric and conventional car sales and electric buses.
BYD has a market cap of CNY 140B (US$20.3B). 2019 debt is estimated at CNY 46B (~US$6.7B). 2019 PE is 42.4 and 2020 PE is 35.8. 2019 net profit margin is 2.1% and 2020 is 2.3%.Analysts' consensus is an outperform with a price target of CNY 55.49 representing 0.8% downside.
BYD's financials chart below forecasts revenues, margins, and profits to all slowly increase in 2020 and 2021.
BYD CO. FINANCIALS AND FORECAST: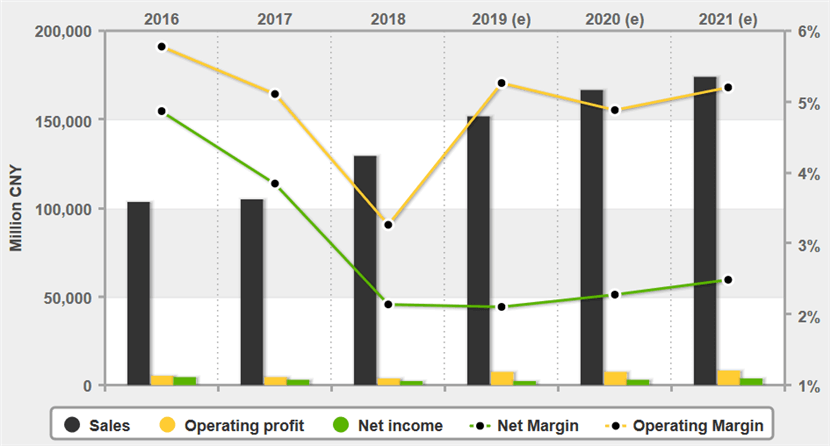 Source: 4-traders
4-TESLA (NASDAQ:TSLA) PRICE = USD 242.41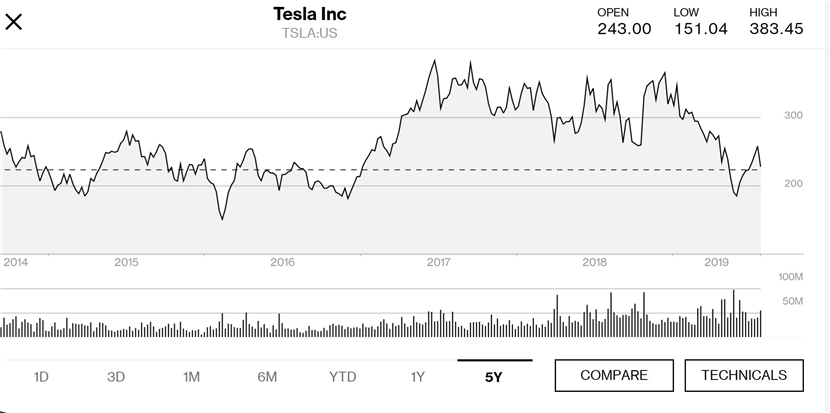 Source: Bloomberg
USA's Tesla is the world's number 5 battery manufacturer and USA's number 1 battery manufacturer. At gigafactory 1 in the USA, Tesla has a JV with Panasonic. Their US gigafactory is the world's largest lithium-ion manufacturing factory.
Tesla is mostly focusing to supply their own vehicles and energy storage products, noting they are currently the No. 1 global seller of electric cars. Tesla is currently constructing their Shanghai China gigafactory, and have plans for a Europe based megafactory next (details not yet released, perhaps in Germany & producing by ~2021). Regarding the new Shanghai factory and Chinese electric car and battery production, Benchmark Minerals states: "In the next three years, Tesla is expected to rely on Chinese lithium ion battery producers or at least Chinese-based cell production to supply Model 3 and the newly planned, Model Y." According to Tesla, the plan for Gigafactory 3 is to produce battery cells along with Model 3 and Model Y cars, at an initial production rate target of 250,000 electric cars per year.
Tesla's new China gigafactory nearing completion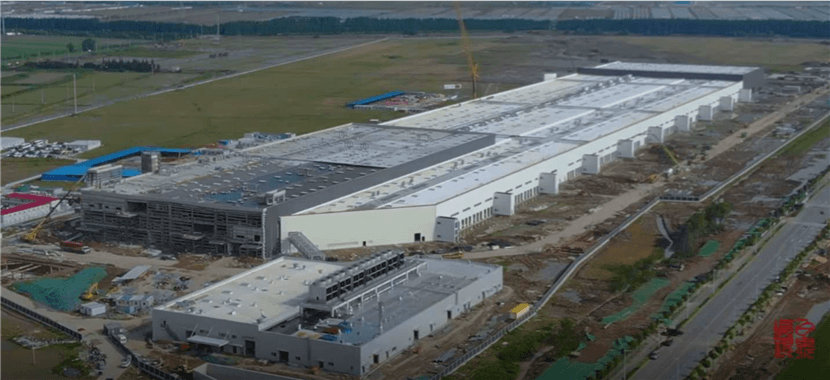 Source: InsideEVs
Tesla has a market cap of USD 43.3B. 2019 debt is estimated at ~USD 8.3B. 2019 PE is -31.6, 2020 PE is 457, 2021 PE is 26.9. 2019 net profit margin is -5.66%, 2020 is 0.77%, and 2021 is 4.96%.Analysts' consensus is a hold with a price target of USD 271.77 representing ~13% upside.
Tesla's financials chart below forecasts fast growing revenues, improving margins, and reaching profitability in 2020, and good profits in 2021 (a ~4.96% net profit margin on ~USD 38B of revenue for a ~USD 1.9B net profit).
TESLA FINANCIALS AND FORECAST: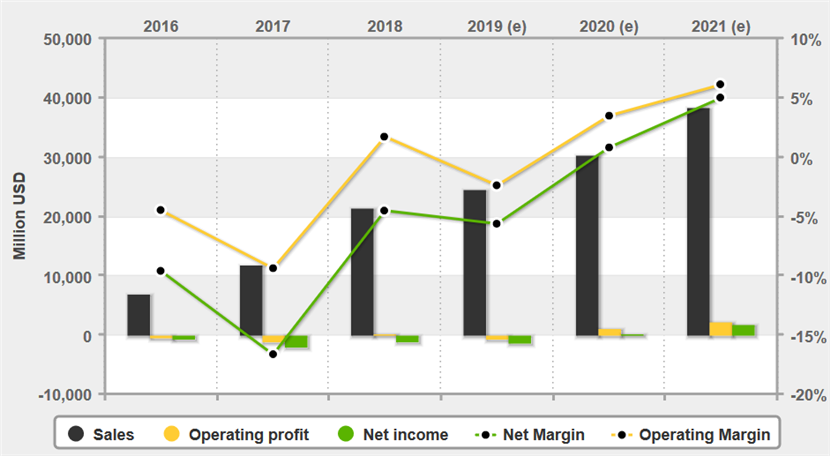 Source: 4-traders
5-BATTERY POWER TECHNOLOGY LTD:
· Design of standard, advanced, smart, rechargeable, Nickel Cadmium, NiMH, Lithium Ion
and polymer batteries
· Produce prototypes and small to medium production of rechargeable battery packs
· Provide subcontracting of large quantity battery assemblies, quality assured at cost effective facilities
· Battery chargers and analyzers
· Third party battery testing and evaluation
6-JOHNSON MATTHEY BATTERY SYSTEMS:
JMBS have a market-leading technology for managing Lithium-ion batteries, delivering safe, durable performance.In Poland KMBS design and manufacture high performance battery packs for the professional cordless power tools and electric bike markets.JMBS are part of Johnson Matthey, a global leader in science that enables a cleaner and healthier world.
WHAT JMBS DO?
JMBS range goes from as little as 1 or 2 Wh right up to 180 kWh, and from 2.4 Volts to 615 Volts. We have produced an 800Ah battery capacity. We work with several battery chemistries, including NiMH, NiCd and Lithium-ion, and with both primary (single-use/disposable) and secondary (rechargeable) cells.
MAJOR USAGE:
· POWER TOOLS
· E-BIKE BATTERIES
· MOBILE POWER
To know more about European lithium ion battery industry, you can visit this:
https://publications.jrc.ec.europa.eu/repository/bitstream/JRC105010/kj1a28534enn.pdf